Get Ready to Feel Amazing!
Welcome! So you're thinking about getting a little healthier – Congratulations! As you know, making the decision is the first step! Those of us that have done this program love knowing that we are passing on life changing principles. Going down a jean size is awesome and that will most likely happen when you do this program; but the health, the ability to climb stairs again, the confidence that feeling good gives people, the energy to play with our kids again – this is what makes us never want to stop educating people on what we do. What we have is not revolutionary. Jack Lalanne was teaching clean eating back in the 60's. What's revolutionary is that we have products and people to support you through the journey to ensure success. We do this in community so that we're not alone. And then we serve others by passing it on which keeps us accountable for the long term and allows us to help more and more and more people like you.
Here's what a sample day will look like:
Designed for:
People who want to optimize their health.
People who want to lose weight in a healthy way.
Athletes who want to increase performance, strength, energy, and muscle definition.
People who want to uncover food sensitivities.
People experiencing fatigue, foggy thinking, poor sleep, poor digestion, excess weight.
What it is
A 30-day whole foods clean eating program.
A system to equip people with the tools & knowledge to implement life-long health.
A rest for the liver and kidneys to maximize function.
An elimination program to help uncover food sensitivities.
A weight loss jumpstart.
What it's not
A deprivation diet
A fast or a liquid diet
Nutritional Rebalancing is NOT a DIET
What will I have to do?
The program includes 3 simple steps that we outline for you.
Eliminate 8 of the most allergenic/toxic/addictive ingredients from your diet. 
Plan to eat about every three hours.
Proportion your meals to optimize nutrient density to fuel your body optimally.
You can join our private Facebook group for education, coaching, recipes and inspiration. 
What can I expect? 
With your products, you will receive access to our private Facebook group for information & inspiration materials including shopping lists, recipes, and information that outlines everything.

A private Coach to guide you through the 30-days.

The first few days you may feel anxious as your body gets used to a new rhythm.

You can expect to have more energy and feel better than you've felt in a long time.

The majority of clients focus on weight loss and the average can be anywhere from 5-14 lbs for women, and 12-20 from men. If you are simply looking to eat healthy and maintain or gain weight, that too can be done.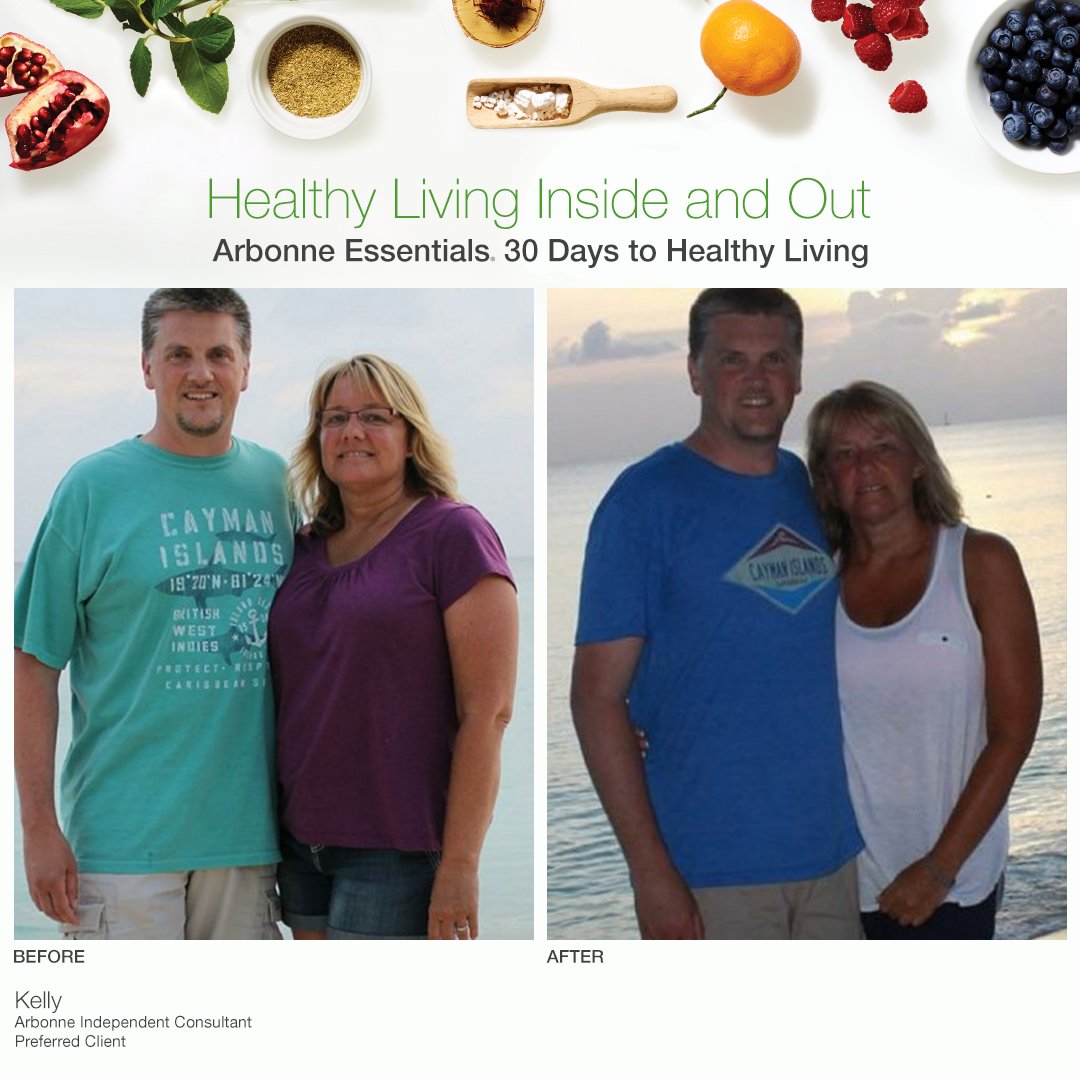 What's next?
Contact your coach or Arbonne Consultant to help you to get started.

Order your products in time for your desired start date (products take 3-7 days to receive).

Clean out some of your more tempting foods from your cupboards.

Weigh yourself and find a pair of pants that fit you well right now.

Take a few photos of yourself from a few different angles. These are just for your eyes, but you'll love seeing the difference!
Why do we use supplements? Most of us are too busy to make 3-4 perfect meals each day. Our supplements are "easy buttons" or "fast food" to make sure we're getting the proper nutrients in the proper proportions at each meal. These supplements are what make the program do-able for most of us and give us the greatest chance of success reaching our goals.
Which Arbonne products come in the kit?​
             
How much does it cost? 
The entire 30-day pack is $266.40 before tax plus FREE shipping! This includes all meals and beverages for 30 days (not including dinners) plus a Support Guide, personalized coaching for the entire 30 days, access to recipes and an online community. New Preferred Clients who purchase this Value Pack also get the Greens Balance for FREE, or can choose from a list of other options.
Get in contact your Arbonne Consultant or send them a copy of the order form completed and decide which package is right for you.
Want more info? Here is a 5 minute summary.